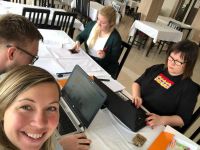 Review on Erasmus+ project "SESU" in Macedonia, Ohrid
21.05.2019


---
From March 25 until March 31, 2019 4 members of "Radošuma pils" took par in Erasmus+ project "SESU" in Ohrid, Macedonia.
About the experience in this project the participants say: "We gained useful knowledge theoretically and practically about social entrepreneurship and new experience. It was valuable to hear Macedonia"s experience of how social entrepreneurship processes are practiced in the country, as well as the experience of the hotel manager and panel discussion. We have gained experience in international teams in preparing social business planning documents.
Improved planning, collaboration and presenting skills. Also, was interesting to hear presentation from each country about national economic and social indicators, so that the mixed working groups could orient themselves in each country"s situation."